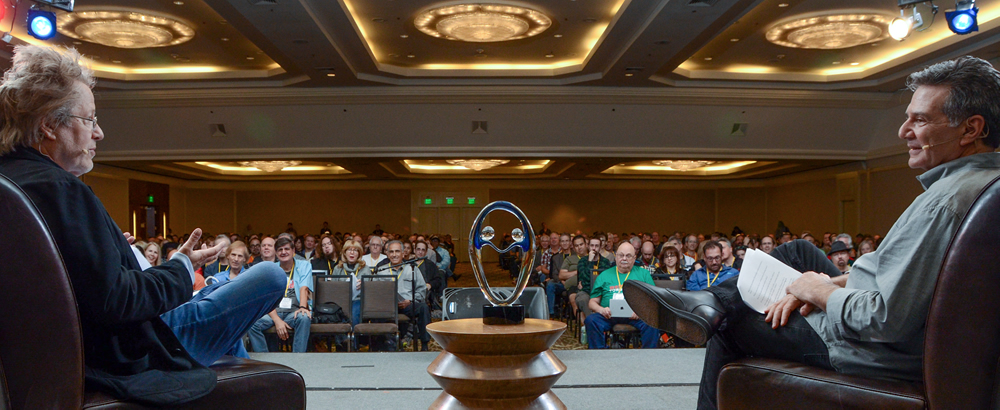 Steve Dorff (left) and TAXI's Michael Laskow during the Keynote Interview at the 2017 Road Rally.
Editor's note: We're repeating the introduction so readers who didn't see it last month have some context about our Keynote Interview subject, Steve Dorff.
This year's Lifetime Achievement Award recipient is Steve Dorff. He is one of the most successful songwriters and composers of the last three decades. He's written more than 20 Top Ten hits for Pop and Country artists including Barbra Streisand, Celine Dion, Blake Shelton, Smokey Robinson, Kenny Rogers, Ray Charles, Ann Murray, Whitney Houston, George Strait, Dolly Parton, Judy Collins, Cher, Dusty Springfield, Ringo Starr, and Garth Brooks. That's the short list. I edited that! Steve has created scores for TV shows including the hits Growing Pains, Murphy Brown, Murder She Wrote, and Reba. Steve has also scored 28 feature films, including Any Which Way But Loose, for which he wrote the title song. He has also started writing for musical theater, including the hit show Josephine. He is also a pretty decent keyboard player, and by his own admission, a pretty terrible singer. Steve has been honored with more than 40 BMI awards, an American Music Award, an NSAI Songwriter of the Year Award, as well as three Grammy nominations and six Emmy nominations. If all that wasn't enough, he has had 12 #1 hits, over 400 songs recorded by notable artists and super stars from all over the world. And in his spare time, he conducts the occasional orchestra for scoring sessions. He just released his first book two days ago, and it's called I Wrote That One Too, very appropriately. I just found this out right before I hit the stage—Steve was just nominated for the Songwriters Hall of Fame. I told you he's done it all, so let's have a listen to some snippets of his work.
As I started talking to friends of mine in the industry, telling them that you are our honoree this year, your personality came up over and over, almost to the person. I really think from my perspective, having read the book now and talking to your colleagues in the industry, that being a nice guy has really done well for your career. I think that being honest, showing up on time, being a pro, delivering stuff, waking somebody up in the middle of the night to get a song done for Clint Eastwood, all that goes to the pro thing, but you've got to be a nice guy. People have to want to work with you, and I think that's maybe the thing that's attractive.
I don't know. Maybe. I tell it like it is if someone plays me a song. And if it's horrible, I'll say, "You know, that's horrible."
There's a guy here today that sends me songs quite a bit. I've known Brian forever and produced a record with him back 30 years ago, and we've remained friends over the years. And he is persistent, persistent; he will send me one ridiculous lyric after another. And then all of a sudden, out of nowhere, he'll show me something that I love. So my point being is that I think I'm honest. I know I'm honest, I don't like to waste anybody's time, and I sure don't like to waste mine. So I think by being upfront and being transparent, I think that has served me okay.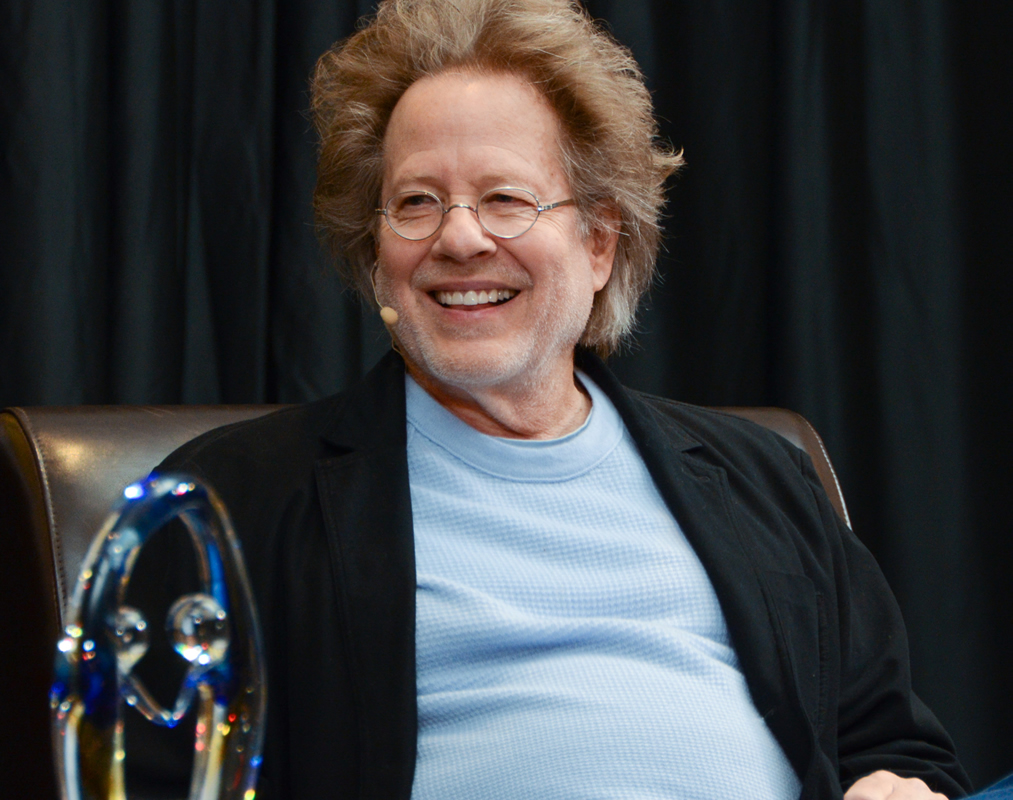 Steve Dorff tells the audience why two FBI agents visited him in the studio.
Talk about the FBI visiting you during a recording session. Not everybody has had the FBI come in in the middle of a session.
Well, I was doing a demo. I was actually demoing "Higher Grounds," which was a song I wrote for Barbra [Streisand]. It was the title song of her inspirational album. I was in the studio doing a Fender Rhodes part and I looked through the glass and I see these two big six foot-four guys in black suits and I thought that was odd. It was almost like that movie Men in Black. And the engineer hits the talk-back button and says, "Steve, do you have a minute?" I say, "Yeah, what's up?" He says, "These gentlemen need to speak with you for a minute." So I'm thinkin', "OK, who are they?" So I walk into the control room and they flash a badge, and I go, "Oh shit, what did I do?" They introduce themselves as special agents for the Federal Bureau of Investigation, and can we go somewhere where we can have a chat?
Were you emptying your pockets or flushing anything?
Oh, I'm like freaking out now. We go back into the recording studio and I said, "Sir, did I do anything?" And he says, "Do you know Charles Manson?" And I said, "What? The Charles Manson? No. What?" And he showed me this piece of paper and my name was on a list of about 40 songwriters, producers, notable people in the music business. And he said, "This is a list that we recovered from wherever." This was after he was already in custody and in jail, might have been even a year after the fact.
Apparently, he had a list of people he had sent cassettes to, because I guess Charlie was a songwriter. They said, "Do you recall getting a song from Charles Manson?" I said, "No, I don't." And I explained that anything unsolicited would be put in a big box and just thrown out by the people that worked in my office. But, yeah, that was Charlie.
Frankly I'm surprised he's never been a TAXI member. [laughter]
He might have been, under a different name.
I remember the first time I asked Michael Lloyd to join us for a Road Rally, he turned white—I mean, just blanched white. And he broke out into a cold sweat. I said, "Are you okay?" I was worried that he was having a heart attack or something. And he said, "I can't sit on a panel and judge people's music. And I said, "Why not?" And he said it was because he was one of the people that Charlie Manson had given songs to, and he had turned him down.
Well, Terry Melcher who was the target of the murders, it was his house where Sharon Tate…Terry just wasn't there at the time. He had just leased it out to Roman Polanski, and Roman wasn't there, he was off shooting a film, and there were about three or four people there. And they were the targets.
"Don't write a song about something you think you know about, or something you wish you knew about, because it's not gonna resonate."
So you are Mr. Right Place at the Right Time, and they were Mr. Wrong Place at the Wrong Time, sadly.
Let's talk about these folks in the audience for a minute. What are the most common questions you get from aspiring songwriters, artists, people who want to enjoy success in the music industry in one way or another. Not unlike myself and other people in the industry, we all have friends who've got a daughter or a son who is a virtuoso violin player. What advice do you give to either the kids or the parents—anybody that wants to be in the industry?
Well, on a broader scale, being in any industry is knowing how to accept rejection and be prepared for it, and don't let it blow your mind and fill you with so much self-doubt that you want to give up. On a songwriter level, which I can speak to easier, I always tell people to write what you know, because the question I get is, "What inspired you to write through the years?" or "How do you get your ideas to write about?" In thinking about that over the years, it's write what you know. Don't write a song about something you think you know about, or something you wish you knew about, because it's not gonna resonate. But if you write what you know—if your heart's been broken or whatever it is that you're experiencing, that's what I write about.
How do you keep it fresh and current and not fall into the trap of chasing trends, while being true to who you are?
Yeah, I never listen to the radio, so I'm not chasing any trends. I write what I hear and what I feel, and trust and hope that someone relates… It's just being true to what you do. You know, when disco came in, I just went "Bang, I'm outta here," because that's not what I do. I'm not gonna write… As much as I like, and my daughters listen to rap music and hip-hop, but you're not gonna see me doing that, or hear me doing that; it's just not what I do. So I've stayed pretty true to what I know I do best.
"I'm not chasing any trends. I write what I hear and what I feel, and trust and hope that someone relates."
What dreams do you have that are still on your bucket list from a musical perspective? What have you always wanted to do? Now you've even done Broadway, which I know is…
Well, the big dreams I had… I'm not inducted yet, but I did get nominated to the Songwriters Hall of Fame.
That's a big deal. That's a small club.
That's a big deal. So we'll see. It's competitive, but to be on the ballot is a dream. Believe it or not, one of my things on my musical bucket list is to score a James Bond movie. I love James Bond, and I watch every movie. Every night, if I scroll through and there's a James Bond movie on, I'll watch it. And I would love to do the music to one of those.
Who's your favorite James Bond, actor-wise?
I like the new guy, but I like Pierce Brosnan. I do like Daniel Craig.
Yeah, he's so moody and intense.
Yeah, he's dark… he's darker. Brosnan was fun. Roger Moore was a little too light-hearted, a little too comical. I didn't believe he would be the tough guy. I thought Pierce was the guy.
"One of my things on my musical bucket list is to score a James Bond movie."
Saturday Night Live totally ruined Sean Connery for me when they did all the spoofs on him. It was like, ah man, you're breaking my heart, because I used to think he was like the coolest guy in the world when I was a kid.
OK, one last piece of advice. You and I have many good friends in common, but one that really sticks out is Paul Williams, who, by the way, makes me look good on a golf course, which is really hard to do. Paul gave you some really great advice early in your career about who the best publisher is. Can you give that to the audience?
Yeah, Pauly and I were having lunch one day, and… I mean, he is one of the most brilliant songwriters ever, and I was a huge fan, and I got to meet him and we became friends. And he is one of the few guys who is shorter than me. [laughter] But we were having lunch one day, talking about the frustrations of getting songs recorded and how tough it is. Paul said that there is the frustration of having a publisher who represents 12 or 15 other writers and maybe gets a call to pitch songs, and they're not gonna take one song from all of his 15 or 20 writers. So who gets the song pitched—and they never tell you what songs are going in the meeting? And Paul said, "Welcome to the club. You are your own best publisher." And I said, "What?" And he said, "You'll always be your own best publisher."
Now, this is going back 20, 25 years ago. He said that no one has a piece of his heart in that song that you've created like you do. A publisher might love it, but at the end of the day, he is really serving as an agent for many songs. You're the only one that's ever gonna truly believe, or go back in your catalog over the years—maybe 10 years after you've written something, a song that you truly believe in—and try to still make that happen. No publisher is gonna go back 10 years and pick an obscure song out of your catalog and say, "Oh, this is a great song for Garth Brooks."
So I took that to heart, and it was a real valuable lesson. It's very true, because I've experienced it. I've gone back over my catalog, and I still do, and I pick songs that for some reason or another fell through the cracks and didn't find a home, but I believe in them, and years later I had success with some.
It sounds like from reading the book that the vast majority of the cuts that you've had were happy accidents, either caused because you were in the right place, right time or because of previous things that happened in your life. Or relationships where you were your own best advocate.
Yeah, your own best advocate is right. It's like when you go to a doctor and you have an ache or a pain and they can't find anything, you know what's going on. And I know what's going on with my songs; I know the ones I truly believe in. And it's happened for me over and over. I just had a Top 10 record with Garth Brooks on a 16-year-old song that I basically didn't even remember that I wrote when I got the phone call. The guy I wrote it with called me up and said, "Hey, Garth's cutting 'Baby, Let's Lay Down and Dance.'" And I said, "What's that?" [laughter] He said, "You wrote it with me." I said, "Really? Oh, I thought it was 'Lay Down and Dance.'" He said, "Yeah, Garth wants to call it 'Baby, Let's Lay Down and Dance.'" I said, "Great."
Whatever. Does he get a third for that?
No. [laughter]
Which, by the way, I really want to stress the point that this book is as educational as it is entertaining, I made a note about that in my notes that; as you read this book you're learning stuff that you won't find in any textbook from some professor. You're getting stuff like that that is experiential from somebody who has been in the trenches.
I've got to say one thing. I don't know if you all know who Don Passman is. He is arguable the most powerful attorney in the music business. And Don and I started together; he did my first deal when he was just out of law school. Unfortunately, he was representing the publisher. We have been friends forever. In fact, he wrote a very nice testimonial for the book, and he called me and loved the book. He said, "It's so you, and it so honest." And I said, "Well, why did you have to screw me so bad on that first deal?" We still joke about that.
"I've stayed pretty true to what I know I do best."
He's a great guy. I think everybody's read Passman's book, right?
He literally wrote the book on this business of music, which I think is in its ninth printing now.
Unbelievable. And he's a true gentleman…
Man, all I can say is thank you, Steve and congratulations. What a great career! What a great guy! Ladies and gentlemen, Mr. Steve Dorff! [applause]