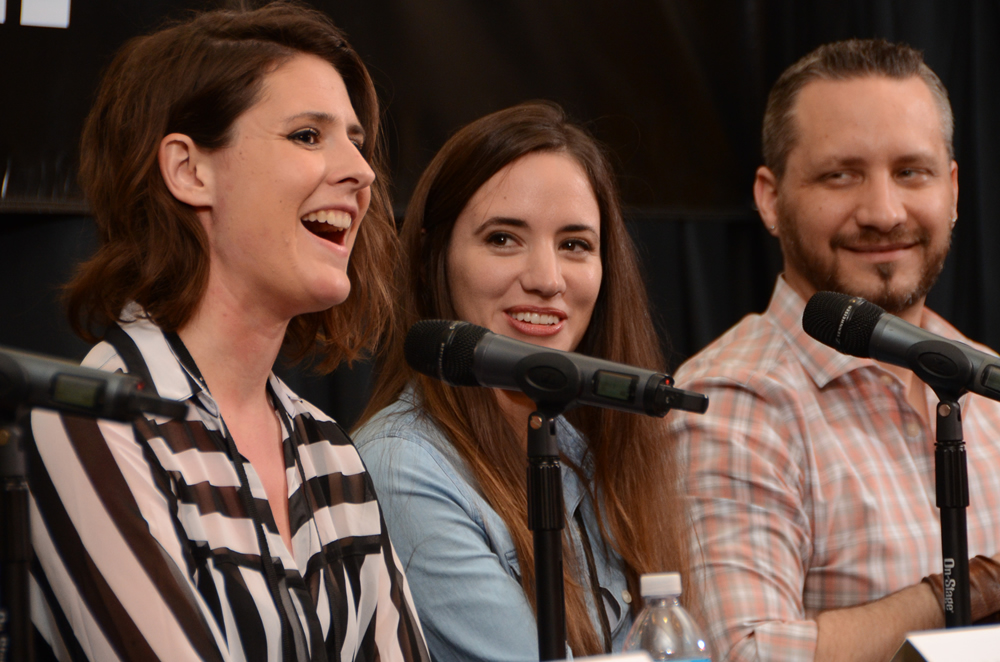 Elizabeth Anne Mall (left) cracks up her fellow panelists Adriana Lycette and Doug Fenske during their panel.
Panelists: Carla Kay Barlow, Elizabeth Anne Mall, Adriana Lycette, Doug Fenske, and Patty Boss.
Moderated by Michael Laskow
Editor's note: These biographies are repeated for background and continuity.
CK Barlow's work appears daily on television, including placements on ABC, CBS, NBC, BBC, CNN, HBO, Bravo, MTV, NatGeo, VH1, etc., plus national ad campaigns. Her background includes extensive indie rock and experimental electronics performance plus a master's degree in music theory and composition. Her specialties in indie rock guitar, intricate electronica, and dramedy reflect that background. She has created music for dozens of indie film and theater projects, including the feature films Warrior Woman (2011) and Roswell FM (2014). In addition to composing, she teaches music technology at both the University of NM and Montgomery College (Rockville, MD).
Elizabeth Anne Mall is a classically trained musician who grew up in Kansas and learned to play piano at 12-years old. Drawing from pop, classical, and electronic influences, Elizabeth creates a unique musical experience. Her songs range from cutting-edge indie-pop to thoughtful piano ballads. The title of her new album Belle Laide is taken from a French term used to describe unconventional beauty. Elizabeth responded to a TAXI listing, which resulted in her meeting Grammy-Winning, multi-platinum engineer/producer/mixer Rob Chiarelli at the 2015 TAXI Road Rally. She's now signed to his production company, The Usual Suspects. Elizabeth engineered her record in her home studio, and Chiarelli mixed it.
Adriana Lycette is a multi-instrumentalist recording artist currently based in Indianapolis, Indiana. Her first self-titled independent album was released in 2003, and she has continued writing and performing ever since. Over the past 10 years she has gained experience working with musicians and engaging audiences as a music leader of various church congregations, both small and large, and in both English and Spanish. Adriana is currently writing for film and TV, actively collaborating with other artists/producers on various projects, including instrumental tracks, singer/songwriter songs, and artist cuts.
Doug Fenske is a Grammy-nominated, multi-platinum engineer/producer/mixer. He has worked in Los Angeles, CA, since 2005 and has been involved in several aspects of record production. Fenske has worked on a string of commercially and critically successful albums, including Frank Ocean's Channel Orange, Chris Brown's Exclusive [The FOREVER Edition], Jamie Foxx's Intuition, and Jordin Sparks's Jordin Sparks. His production experience includes collaborations with some of the music industry's most elite artists, writers, producers and engineers. Doug now serves as Director of Education at Crē•8 Music Academy in Hollywood.

Patty Boss composes music for television, including national feature scoring credits for Emmy winner Bay Windows in San Francisco. Her music plays on CBS, Fox, CNN Special Report, CBS Sports Spectacular, MTV, Bravo, National Geographic Channel, Entertainment Television (E!), TLC, Oxygen Network, TV-One, FYI Network, History Channel, H2, Travel Channel, VH1, etc. She has held roles as Audio Lead and Composer for Leapfrog Inc., Composition Guest Lecturer at New College, San Francisco, Broadcast Mixer for CurrentTV, music production for XBOX advertising; EA Games sound design credits for The Sims, & The Urbz; Keyboard and backing vocalist for several touring bands. She holds a degree from Berklee College of Music, Boston, and she's got a Master of Arts, piano principle.
So Patty, what were your next steps after learning piano and going to Berklee?
Well, I finally joined TAXI... I had already done five CDs on my own, and the mixes weren't that great. I was probably learning how to use Logic, or whatever software I was using. So I got my piece of music forwarded by TAXI, and then I kept taking the very same tracks and pitching them over and over without paying any attention to any comments from the screeners—and I got 65 rejections, 65 "returns" after that. And just kept pitching the same tracks to all these different listings [TAXI terminology for opportunities or requests], because I was completely clueless. And finally I came here to the Road Rally, and I went to one of those goal-coaching things for like a half hour. And the lady said, "Fill in the forms and write to the listings." As soon as I wrote to the listings instead of pitching my old material to the wrong requests over and over, and I worked on making my recordings sound better—which took some time—I started getting Forwards and deals, and all that. So get on TAXI's Forum (forums.taxi.com) if you'd like to get some help and learn how to do that stuff more quickly.
That's kind of my path. It takes a lot of time. But what I also wanted to stress is that some of you are technical and some of you might not be, but it's just like cooking—you all can do it. You don't have to buy a bunch of gear. You can even go on Craigslist, and buy a used Macintosh that already has Logic on it. You can get it for $500! You don't need a lot of extra gear. Just whatever you get, just play around. Make mistakes, see if you can break it, play around with the loops, drag a loop in and pull up one of those plug-ins—an EQ or something, or a compressor—and just see if you can make the sound change, or the panning. See what happens—see if you can totally mess it up. Just experiment, burn your cookies, and try to have fun. Because this stuff takes a lot of time, right? So the only way to really have fun is to have little successes along the way. And the best way to have successes is to break a big problem down into little tiny chunks. If you have some challenge like, "Oh, I want to record piano, but what is MIDI? How do I do this?" Just break that into three separate things and then just spend a day or a week on just one of them, and then you'll be more likely to have some success and it becomes more fun. Like, "Hey, I had a success today, because I got the keyboard to make a note in a recording application." And that's really a big deal. Just make things simpler and simpler, because once you do a few things, you'll find that you'll start running really fast and you'll have to slow down. Make big problems into small problems.
"Some of you are technical and some of you might not be, but it's just like cooking—you all can do it."Patty Boss
And the other thing we do with the music stuff is, we're alone a lot and it gets really isolating. So when you talk to people here—or even next year when you come, or you're on TAXI's Forum—start asking people, "Hey, what recording application do you have?" even if you don't use it. Maybe you have a Macintosh and you have GarageBand on it but have never even touched it, never opened it, use that as a totally legit application. There are free ones out there; there are free recording software applications for PC and for Mac. Ask each other, "Hey, what application are you using?" You know, "It's called DAW, a Digital Audio Workstation," which is almost an old-fashioned term, because before all the sounds had to be in these boxes—keyboards and outboard gear—and now it's kind of all in the computer. So it's not always a workstation. You hear people say DAW. It really just means is software.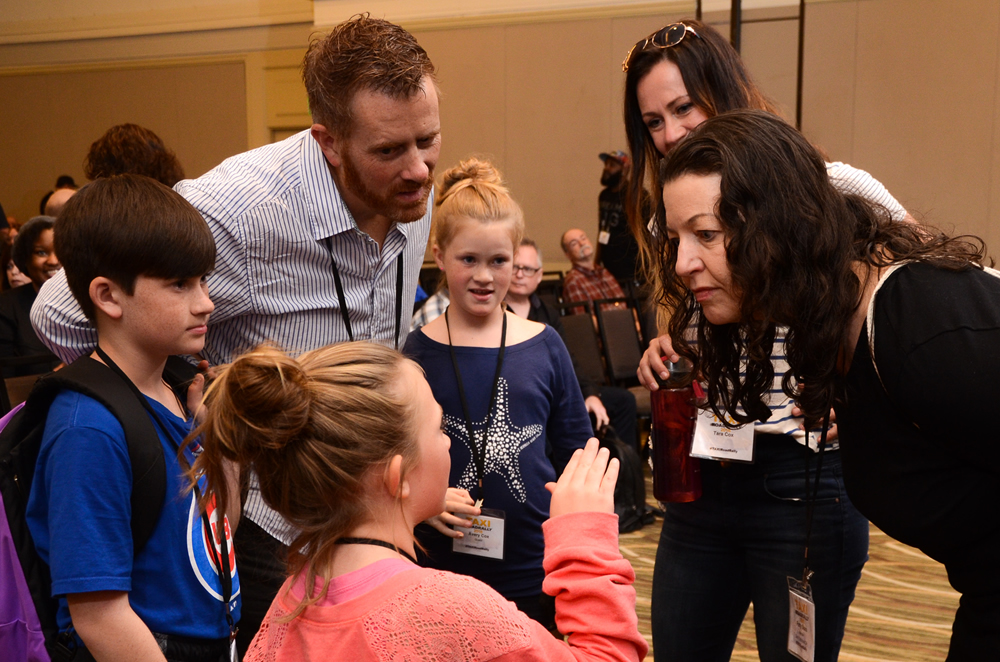 Panelist Patty Boss (right) gives some advice and encouraging words to a young fan after the panel concluded.
Man... all these years I thought they were saying DOG. What kind of dog do you use? [laughter]
So ask each other, "Hey, what app are you using?" They might say, "I'm using Pro Tools," and you'd be like, "Will you be my audio buddy? I want you all to ask each other and find an audio buddy. So in the middle of the night and you email or Facebook your friend... "I know this person; we kind of agreed to be audio buddies. I know they have Pro Tools. I can't figure out this thing in Pro Tools."
What we really need is we need somebody we can reach out to and say, "Hey, Dude, show me how to do this," because I think that's what will really help. Find a buddy that has the same application that you do and talk to each other.
What I'm hearing amongst all of you guys on the panel is: "Don't be afraid to fail. Fail fast. The more often you fail, the faster you're going to succeed." And by removing the limitations of not being able to produce or not being able to engineer your own stuff—am I crazy in thinking—it allows you to write different types of music than what you've been limited to previously, and all of a sudden you're free, you're out of that prison. You can do anything you want to do. Maybe you've always been a singer/songwriter, because that's all you could be. Maybe all you could do is get a guitar/vocal sound in GarageBand, but now... after busting out of production prison... now you could do EDM or Hip-Hop, or Chillwave, or whatever you damn well please!
That's why I wanted these folks on this panel... because they've done exactly that! So, should we open this up to some audience questions?
"Google is my best friend, because you can ask any question you want and someone has already asked it."Elizabeth Anne Mall
Audience Member: Thank you for this. I feel like I'm in a prison, because of production. After you get an audio buddy, then what do you do? I sit there and stare at the computer.
Elizabeth: So, what I did first of all when I graduated college, I didn't have any recording equipment. But I was super-blessed because my professor was able to give me a list of what we used in the studio. It wasn't a huge thing, but I think you need to make a budget that says, "What am I going to spend on this upgrade in my life?" Actually, my husband sent me a list this morning of what equipment we got that first time and how much it was, and it was just shy of $4,000. If you're interested, get with me afterwards; I can show you those exact things. They're pretty decent quality things: speakers, microphones, audio interface... things like that. Not like the highest level, but decent ones. I think that's something to look at.
But then the next thing is really getting in there and experimenting with it all. I would just dedicate an afternoon to that. Google is my best friend, because you can ask any question you want and someone has already asked it. And no one knows you're asking it, because you're on that side of the computer. I Google questions all the time, and it'll send me to Logic site—or whatever it may be—and I find answers that way a lot. So I think a real easy thing anyone can do, with any beginner questions especially—just get on that computer.
CK: Were you here when I mentioned Lynda.com? I am just reiterating that because it could be free through your public library. It's got GarageBand instructions. They've got video courses broken up into small chunks with transcription so can take the words and paste them into something to study later.
Doug: I'd also like to add to that, MacroVideo.com. That's another kind of educational website that you can just pause that particular lesson. They'll have an entire unit broken into three-minute lessons, so you can kind of pause things and go one by one and just take your time. But they're not free.
"While YouTube can be a resource, there's no quality of content screening. So you can get misled very, very easily."Doug Fenske
And there's no problem that can't be solved with YouTube. I'm always amazed. No matter what it is, somebody has done it on YouTube. But you need to filter the good advice from the less-than-good.
Doug: I'm glad you said that Michael, because I do want to note that while YouTube can be a resource, there's no quality of content screening. So you can get misled very, very easily on YouTube. So the 50 bucks that you pay to be able to have your proper lessons is going to be worth it.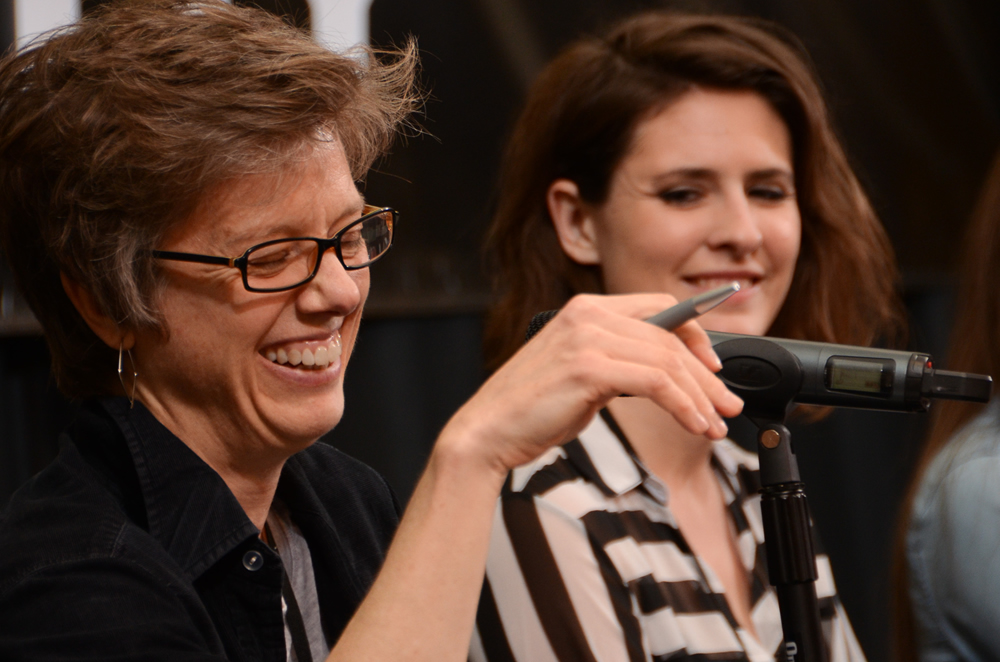 C.K. Barlow (left) did a great job of making herself laugh, as well as fellow panelist Elizabeth Anne Mall, and everybody in the ballroom.
Anybody, or all of you, can answer this question: If you're primarily a keyboard player and you need a guitar part, or vice-versa, or you need a flautist, or you need a banjo part, or whatever. How have you guys overcome that? Have you had that situation, and how did you overcome it?
CK: I'm self-taught on guitar, and I'm functional on ukulele and mandolin and whatnot. And when I say functional, for those of you who are writing music for TV, sometimes all you need is the flavor. You know, ukulele evokes a vibe, and mandolin evokes genres and a vibe, and you don't typically even want to play anything complicated. So I am not shredding, and on the rare occasion where I really need to do a shredding guitar solo, I practice and practice it and practice it, and then I put "cycle record" on and I play it and I play it, and record it and record it, and record it until I get... And I'm to the point now where I don't settle for comping it. I want to get the one fluid take that's awesome instead. But in a lot of cases you don't need to be virtuosic, you just need to be functional for TV. Wouldn't you guys agree?
"You don't typically even want to play anything complicated. In a lot of cases you don't need to be virtuosic, you just need to be functional for TV."C.K. Barlow
Elizabeth: Dean Krippaehne talks a lot about that in his books. I actually have piano chops and it's kind of bad, because I play too many notes. Then, with guitars, I've had maybe a few lessons when I was eight years old. But I played around on the guitar enough to just get the coordination. But with guitar, I just use them to add organic elements [the sound and texture] to recordings. I don't have chops on the guitar, really, and I do a lot of alternate tuning. It's my way of cheating—my secret tips for you all. [laughter] I basically just have something playing and, "Oh, I'm gonna add guitar to this," or I have a bunch of different string instruments. So I basically just sit there and I tune the instrument to the song, almost by ear, usually. So now when you play it, you really don't need a lot of fingers over here, you just, "Oh, one finger, that sounds great." That's how I cheat. Because I don't have a lot of technique on guitar, it forces me to play really, really simple melodies. And those tracks probably come out more ... they might come out more marketable sometimes than more complex stuff!
Don't miss the last chapter of this interview in next month's TAXI Transmitter!